The Software Update Available status in the Malwarebytes Nebula console gives you control over larger software updates that are typically released monthly for Windows endpoints. This status indicates when an endpoint has downloaded a software update and is ready for installation. This allows you to manually control when the update gets installed.
Note: This feature does not stop Protection Updates or other plugins from updating, but rather provides control over larger software updates being installed.
Like other statuses, the Dashboard shows a count of endpoints with Software Updates available

. Click this tile to navigate to the Endpoints page with the corresponding filter applied.
On hover, the status icon displays the current version in-use and the new version ready for installation.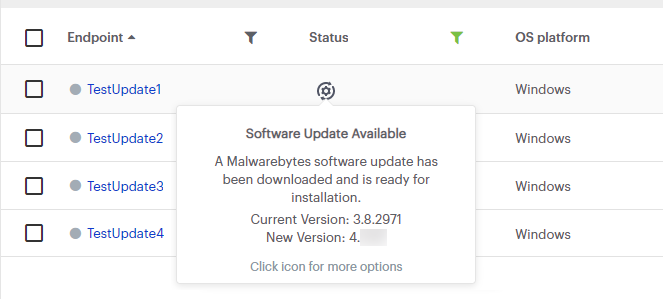 To install the update:
Select the Update MWB Agent action via the status icon or Actions menu. Use the Actions menu to install the update on multiple endpoints at a time.
Status icon:

Actions menu:

A dialogue notifies you that a restart may be required to complete the installation. If needed, the Restart Required status icon subsequently displays, and reboots are handled as configured via your policy settings. Click Yes to install the software update.

Note: To review or modify your reboot settings, select a policy, browse to the Windows tab > General tab, and locate the Reboot Options section.
To verify that the software update was successful, select the Overview tab for a specific endpoint and confirm the Protection Service Version is in the 4.x.y.zz range.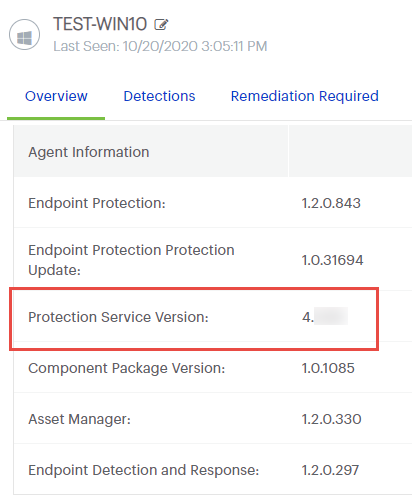 Automatic Updates
If you prefer automatic updates, you can enable this feature under the Software Updates section of a Nebula policy. For more information, see the article Configure Software Updates options in Malwarebytes Nebula.